FURNACE, AIR CONDITIONER & HVAC REBATES AND SPECIALS
Comfort Plus ClimateCare is the best source for furnace and air conditioner specials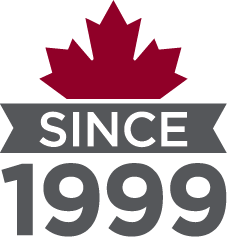 We've been exceeding expectations in Brantford, Cambridge and Hamilton since 1996. Join your neighbour as a satisfied customer.
100% satisfaction means that if you're not happy with the service received or the equipment installed – we will make it right.
Save Up To $1,000 On Your RUUD Home Comfort System
Must be installed by Comfort Plus ClimateCare by March 15, 2021. Please call for details (exact amount depends on which units are purchased). For more information on RUUD Home Comfort Systems please click
here
.
You Could Win $2,000 Cash Back on Your Ruud System Purchase!*
The winner will be drawn from all customers who purchase a RUUD system between January 4, 2021 and February 28, 2021.
*must purchase a system (furnace and central air conditioner) to qualify for cashback draw.
Official Contest Rules and Guidelines

Comfort Plus ClimateCare's Contest "Win $2,000 Cash Back on a Ruud Home Comfort System" is open to Ontario residents over 19 years of age and located in our service areas of Brantford, Cambridge or Hamilton. Representatives and/or employees of any ClimateCare member companies and their immediate families are not eligible. Employees and/or the immediate families of any advertising agency, used for this promotion, are not eligible. Only purchases made through Comfort Plus ClimateCare are eligible.
Customers purchasing a Ruud Home Comfort System, from the start of business January 4, 2021 to the end of business February 28, 2021 will automatically be entered into a draw to win $2,000 cash back on your Ruud system purchased. Participating customers must have the system fully funded and installed by close of business March 15, 2021.
The contest consists of one (1) draw to win $2,000 cash back on your Ruud Home Comfort system purchased and paid by the customer. NOTE: All sales after February 28, 2021 are excluded.
The customer will automatically be placed into the draw at Comfort Plus ClimateCare upon completion of the installation.
The draw will occur on Friday, March 19th, 2021. Entrants do not have to be present in order to win. The winner must answer a skill-testing question in order to claim the prize. The winner will be contacted by a representative of Comfort Plus ClimateCare within 3 business days of the draw taking place via telephone or email.
In order to claim the prize, the winner must provide a valid government issued photo identification showing the same name that is on their receipt of purchase and install.
The winner agrees to participate in any prize related promotional events requested by Comfort Plus ClimateCare. These events include, but are not limited to, photographs and videos taken of the draw and announcement of the winner. These images and videos will be used for various media including, but not limited to, social media, websites, newspaper and radio advertisements. The information published will include the amount of the prize awarded and the winner's name. Comfort Plus ClimateCare will not share, give, rent or sell any personal/private information about any contestant.
Feeling good about your indoor comfort solutions is easy when they are taken care of by trusted, local professionals.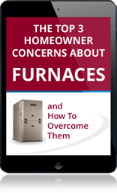 Concerned About Your Furnace
Here are the top 3 concerns and solutions
Make the switch to a CLARITY Furnace, AC or bundle between September 14, 2020 – February 28, 2021* and you'll get:
When you purchase a CLARITY by ClimateCare furnace, air conditioner, water heater or water softener, you equip your home with high quality products while enjoying proactive maintenance and hassle-free repairs.
First 6 monthly payments on us (No deferrals. No hidden fees.)
$0 down
$0 installation
New high efficiency equipment
Precision tune ups
All repairs done by us
100% satisfaction guarantee
Contact us today to schedule your visit with our indoor comfort expert!
*Eligible on the purchase of any (1) CLARITY furnace or (1) CLARITY air conditioner or combination of both. CLARITY tank-type and tankless water heaters are eligible when combined with a CLARITY furnace or CLARITY air conditioner. Single CLARITY water heaters are not eligible. Must be purchased between September 14, 2020 – February 28, 2021 and installed by March 15, 2021. On approved credit only.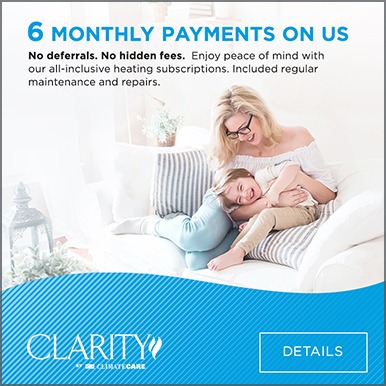 Feeling good about your indoor comfort solutions is easy when they are taken care of by trusted, local professionals.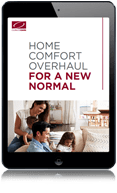 Home Comfort for a New Normal
Tips to keep your home comfortable all year round
Protect Your System With A Heating, Ventilation and Air Conditioning (HVAC) Maintenance Plan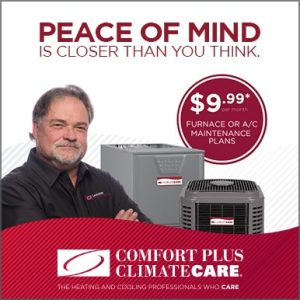 A WeCare Maintenance or Protection Plus Plan from Comfort Plus ClimateCare offers peace of mind and a guarantee of year round comfort. If something happens to your heating or air conditioning system, an expert service technician will be there fast to take care of it and with a WeCare Protection Plus Plan there is no extra charge, even after hours.
It's the most comprehensive protection you can get with an HVAC system maintenance plan. Even if you never need major repairs, seasonal maintenance through the plan will keep your heating and cooling system operating smoothly and efficiently.
What's Included in the WeCare Protection Plus Plan?
In addition to peace of mind knowing you will always get service without big surprises in the form of an unexpected expense, your WeCare Protection PlusPlan offers the following benefits:
If your heating or air conditioning breaks down in the middle of a cold January night or on a hot afternoon in July, a WeCare Maintenance or Protection Plus Plan is a welcome relief. Day or night, service technicians are standing by for all of your HVAC troubleshooting and repair needs. It's the best kind of insurance you can get; knowing your family will be comfortable, warm and toasty in your home, all winter long and cool and carefree through the summer.
What Products are Covered in the WeCare Maintenance or Protection Plus Plan?
Get coverage for just your furnace to insure winter warmth or talk with us about protection for every heating and cooling related product you own. Typical maintenance coverage plans can be set up for all ClimateCare products, including:
Contact
Comfort Plus ClimateCare
to find out about a HVAC system maintenance plan for your home. Whether your heating and cooling system is old or new, your local experts are ready to take care of your comfort needs. You'll find working with us a breath of fresh air!