Comfort Plus ClimateCare understands the importance of making financing available for those that want it and has established a quick and easy way to get it.
At EcoHome Financial, we are consumers too. With any major purchase, especially those which affect one of the largest investments we make (our home), it is important to make the right choice to meet our specific needs and wants.
Ecohome's flexible payment options are here to help empower your choices:
We'd like to get to know your friends, family and neighbours. Most of our customers here at Comfort Plus ClimateCare come from referrals from people just like you.
To thank you we are introducing a new referral program. When you refer someone to us who becomes a customer, we will give you 3 months for free on your current WeCare Maintenance or Protection Plan.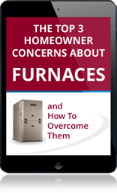 Concerned About Yor Furnace?
Here are the top 3 concerns and solutions