Save On Energy Consumption And Costs With An Air Source Heat Pump
If you want to beat the heat in summer, your first thought might be an air conditioner.
That's logical. But did you know you can save energy and money with an air source heat pump?
We are proud to be a KeepRite® dealer. When you choose KeepRite® heating and cooling equipment, you're choosing enhanced dependability and innovation in home comfort. We are proud to give you the latest in engineering and technology.
Products like ductless heat pumps and cold climate heat pumps are energy-saving, lower-cost solutions that'll keep you cool in summer and warm in winter.
It might sound backwards, but you can actually keep your home comfortably cool in the summer with an air source heat pump. Heat pumps move heat energy from one space to another, exchanging warm air for cool air, or cool air for warm air, depending on your climate needs. They effectively bring warm air into a room, or remove it.
A heat pump provides coolness like an
air conditioning
unit, but doubles as a space heater during the winter. When used in conjunction with your high-efficiency
furnace
, it's an economical solution for comfortable temperatures all year round. In fact, an air source heat pump is one of the most effective ways to reduce heating energy consumption.
In addition to offering efficient performance in colder climates, heat pump technology has evolved over the last 20 years to provide comfort improvements and overall benefits: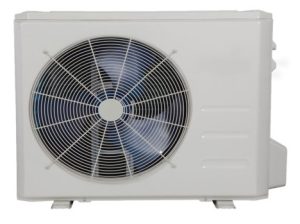 Higher energy efficiency – up to 18.5 SEER2 during cooling and up to 8.0 HSPF2 during heating with properly matched equipment
Help reduce a home's carbon footprint compared to a gas furnace/air conditioner system
Consistent temperature in the home for greater comfort with fewer up and down swings during use
Potentially eligible for local utility rebates and federal tax credits based on the Inflation Reduction Act of 2022 (in our case only specified systems qualify, as the rebates evolve will work together to adjust as necessary)
Enhanced humidity control throughout the year – during both heating and cooling operation
Northern climate heat pump technology allows for installation in all regions and provides warm, energy-efficient heating even when it's below freezing outside. Most ductless heat pumps operate down to -22° F and still produce Heat.
Carbon Tax Savings
The Federal Carbon Tax will more than triple over the next decade from $50/tonne in 2022 to $170/tonne in 2030.

Homeowners are taxed on the use of fossil fuels like natural gas, propane and oil for appliances, which heat pumps do not use. Increasing even more by 2035.
See Canada's Green initiative timelines below:
By 2030: Reduce carbon emissions by 50-52% below 2005 levels
By 2035:100% clean energy
By 2050:Carbon emissions reduced to net zero
How can we help you with a heat pump
home comfort system?
At Comfort Plus Heating and Cooling we offer a wide range of heat pump products. These models are extremely quiet, while maintaining an emphasis on high efficiency.
Whether you're new to this type of technology or already know all about it, our highly trained advisors will help you make the best choice for your needs.
We also offer maintenance and protection plans, so if anything goes wrong with your home comfort system, we'll be there to provide quality service and repairs.
Need efficient and affordable home heating solutions?
Our friendly customer service agents in Brantford, Cambridge and Hamilton,  are always available to walk you through the options available to you.
And when you've made the big decision, you can be sure our locally-owned and operated business will provide the superior service homeowners have come to expect from us.