Where's Captain Comfort?​
This image of Captain Comfort is NOT the actual
contest guy...it is for illustration purposes only.
Please keep looking!
Find Captain Comfort with the Promo Heart hidden in a different location each week on our website and tell us where he is located. See contest rules below for details.
Where's Captain Comfort Contest
One winner per week will be randomly drawn to WIN a $50 VISA® gift card.
Contest runs between February 1st-28th, 2021.
Official Contest Rules and Guidelines
Comfort Plus ClimateCare "Where's Captain Comfort?" Official Rules:
Comfort Plus ClimateCare "Where's Captain Comfort?" is open to SW Ontario residents in our service radius of Hamilton, Brantford and Cambridge and surrounding areas. Representatives and/or employees of any ClimateCare member companies and their immediate families are not eligible. Employees and/or the immediate families of any advertising agency, used for this promotion, are not eligible.
Enter our contest online by liking our page/post, tagging a friend or sharing our post. The skill testing question will be "where is Captain Comfort Heart Promo Character" on our website. Winners will be asked this question by phone, or you can send via Messenger each week. Please do not post your answer on Facebook.
The respondents will automatically be placed into weekly draws off Facebook at Comfort Plus ClimateCare in Cambridge. The winners will be contacted by Comfort Plus ClimateCare within 2 business days of the draw taking place via telephone or email and asked their skill testing question. We will arrange for shipment of your card to the desired address or pick up at our Cambridge office.
The winner agrees to participate in any prize related promotional events requested by Comfort Plus ClimateCare These events include, but are not limited to, photographs and videos taken of the draw and announcement of the winner. These images and videos will be used for various media including, but not limited to, social media, websites, newspaper and radio advertisements. The information published will include the amount of the prize awarded and the winner's name. Comfort Plus ClimateCare will not share, give, rent or sell any personal/private information about any contestant.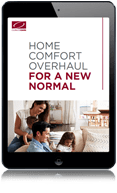 Home Comfort for a New Normal
Tips to keep your home comfortable all year round